Now that two weeks have passed since this year's SDSU English Department sponsored graduate student conference, allow me to supply a rundown of the day's proceedings.  As organizer of this year's event, I was pleased by the quality and contrast of the presentations, and was glad to see so many people turn out in support.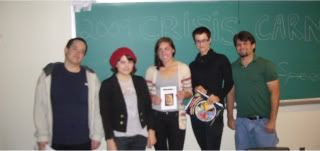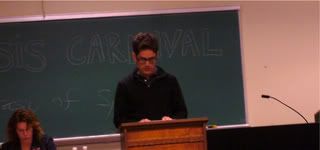 The title of the conference,
"The Ecstasy of Speed,"
was selected due to its relevancy to current issues of study, and allowed for an array of presentation topics ranging from from crank addict surfers to Craigslist ad surfers; we saw Corpus Christi Pageants and
Facebook
fanatics, and had analyses on everything from Doctorow's  
Ragtime
to Danielewski's  
Only Revolutions
.  Since the panels were set up thematically in an attempt to simulate the debilitating effects of escalating speed, it came as no shock when the unexpected ending left many in attendance craving more.